Epilogue - Case Closed
Talk

4
188pages on
this wiki
Case Closed is the best ending for Norman Jayden in Heavy Rain.
Characters
Edit
Norman Jayden is hailed as a hero by the whole nation, appearing on the interview show "Let's Talk Tonight." Later, Norman sits on a toilet, wondering what to do with the
triptocaine
. He decides to flush it down the toilet, looking at it in disgust before leaving.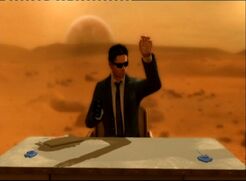 Back in the office, Jayden is using his ARI to update files on known criminals. Suddenly some virtual tanks start driving across his desk; he worriedly decides to take off his ARI glasses. Moments later, the virtual tanks appear again. Jayden gave up triptocaine too late to stop it permanantely affecting his brain. He is horrified that he can see the tanks without his glasses.
Requirement
Edit
Shaun must be saved, with Norman solving the puzzle.
Norman must survive.
Norman takes triptocaine at least once when given the option (the first time it occurs is in an uncontrollable cutscene)
The tanks that appear when Norman "goes mad", is actually a play-option, which can be seen in the chapter Welcome, Norman, when Norman chooses to play with the ball.
While some consider this the best ending, it is only the second best because Jayden goes mad. In Resignation, he is perfectly fine now.