For the chapter, see The Cemetery.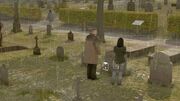 The cemetery (or graveyard) is a location in the city in which Heavy Rain takes place.
Scott Shelby and Lauren Winter visit the cemetery to find information about John Sheppard, who they believe to be connected to the Origami Killer. When they locate his grave, a gravedigger approaches them and tells them about the events that led to John's death (which are recounted in "Twins"). The gravedigger leaves the cemetery as a storm moves in; Scott and Lauren do the same, and Charles Kramer arouses their suspicions when he shows up to put flowers on John's grave.
The cemetery also appears in some of the endings in which the main characters die.
Chapter appearances
Edit
Ad blocker interference detected!
Wikia is a free-to-use site that makes money from advertising. We have a modified experience for viewers using ad blockers

Wikia is not accessible if you've made further modifications. Remove the custom ad blocker rule(s) and the page will load as expected.