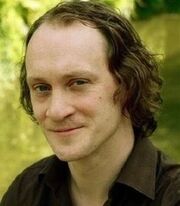 Conrad Cecil is a British actor who provides the voice and motion capture for Clarence Dupré in Heavy Rain. He has also had roles in movies such as Female Agents (2008) and Julius Caesar 2014.
Filmography
Edit
Female Agents (2008) as the English Geologist
Possibility of an Island (2008) as the Clergyman
Point Mort / Point Fort (2008) as Le Dandy
Requiem for a Killer (2011) as the British Oil Engineer
The Silence of Joan (2011) as English Soldier
Julius Caesar 2014 (2014) as Caius Cassius
Ad blocker interference detected!
Wikia is a free-to-use site that makes money from advertising. We have a modified experience for viewers using ad blockers

Wikia is not accessible if you've made further modifications. Remove the custom ad blocker rule(s) and the page will load as expected.