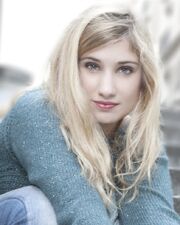 Diane Dassigny (born November 12, 1983) is a French actress, musician, and singer who provides the motion capture for Britney Sanders in Heavy Rain. She has also had roles in numerous movies, shorts, and TV series, including Organik (2004) and Ma vie est belle (2012), also serving as the producer of the latter, and performed "C'est bientôt la fin" in Mozart l'opéra Rock 3D (2011).
Filmography
Edit
Les merisiers (1992) as Chloé
La colline aux mille enfants (1994) as Sophie
Terrain glissant (1995) as Sarah
Nini (1997) as Janique
La femme d'un seul homme (1998) as Vanessa
Marcel Proust's Time Regained (1999) as Pianist, Bal de Tête
Chacun chez soi (2000) as Gaëlle
This Is My Body (2001) as Ida
La bête de miséricorde (2001) as Caroline Fortin
The Holy Child (2001) as Marie
Passage du bac (2002) as Julie
Organik (2004) as Sonia
The Gospel According to Aime (2005) as La jeune mariée
God in My Pocket (2006) as Diane
L'amour, c'est mieux à deux (2010) as Stella
Mozart l'opéra Rock 3D (2011) as Constance
Ma vie est belle (2012) as producer
Irrésistible (2013) as Jeune femme ascenseur
Mallory (2016) as Christine
Ad blocker interference detected!
Wikia is a free-to-use site that makes money from advertising. We have a modified experience for viewers using ad blockers

Wikia is not accessible if you've made further modifications. Remove the custom ad blocker rule(s) and the page will load as expected.