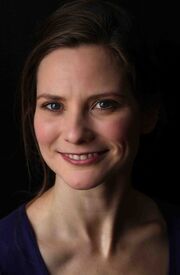 Elena Odessa Ray is an actress who provides the voice and motion capture for Susan Bowles in Heavy Rain. In addition to having leading roles in "Psycho Monkey on Planet Earth," "Prelude to a Kiss," "A Winter's Tale," "Women Beware Women," "The Crucible," "Lovers and Other Strangers," "A Midsummer Night's Dream," and several other plays, she has starred in a documentary short and a TV movie.
Filmography
Edit
Marie et les Gargouilles (2013) as Marie
Deux (2015) as la femme de Dominique (as Elena Odessa Schmidt-Raynauld)
Ad blocker interference detected!
Wikia is a free-to-use site that makes money from advertising. We have a modified experience for viewers using ad blockers

Wikia is not accessible if you've made further modifications. Remove the custom ad blocker rule(s) and the page will load as expected.