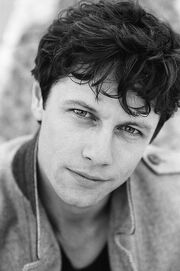 Leon Ockenden (born August 16, 1978) is a British actor who provides the voice and motion capture for Norman Jayden in Heavy Rain. He has played supporting roles in a number of television dramas since 2003. He grew up in the resort town of Looe in Cornwall, starring in plays at his school before pursuing a career in acting.
Ockenden is probably most notable for his performances in the episodes of the Australian/English television series Tripping Over in which he played gay wild boy carpenter, Callum. He also appeared in the film adaptation of Clive Barker's Dread in 2009.
Appearances
Edit
Television
Edit
The Coroner (2015) as Danny Ball
Mr. Selfridge (2015) as Serge De Bolotoff
Waterloo Road (2014) as Hector Reid
Identity (2009) - Unknown Role
Secret Diary of a Call Girl (2009) as Conner the Male Escort
Casualty (2009) as Luke Reilly
This Morning (2008) as Himself
Heartbeat (2008) as Dr. Chris Oakley
Heroes and Villains (2008) as Earl of Leicester
Tripping Over (2006) as Callum
Totally Frank (2005), episode "Bed" as Miles
Family Affairs (2004) as Sam Taylor
Hawking (TV film) (2004) as Rosencrantz
Hustle (2004), episode "A Touch of Class" as Simon
Midsomer Murders (2004), episode "The Maid in Splendour" as Jamie Cruickshank
Judge John Deed (2003), episode "Economic Imperative" as Nick
The Private Life of Samuel Pepys (2003) as Pembleton
Red Tails (2009) as Co Pilot
Dread (2009) as Jimmy Cake
Mr Right (2006) as Lawrence
Vegabond Shoes (2005) as Champagne waiter
Flare Path (2015)
Plague Over England (2008)
Women Beware Women (2006)
Video Games
Edit
Ad blocker interference detected!
Wikia is a free-to-use site that makes money from advertising. We have a modified experience for viewers using ad blockers

Wikia is not accessible if you've made further modifications. Remove the custom ad blocker rule(s) and the page will load as expected.