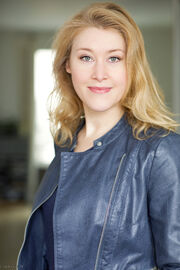 Lexie Kendrick is an American actress who provides the voices for Britney Sanders, Charlene, and the hospital receptionist in Heavy Rain. She currently lives in Paris and has had roles in several movies, documentaries, shorts, TV series, and video games. She also sings at the Moulin Rouge and with two jazz groups: "The Don LaRue Combo" and "Lexie and the Soul Farmers."
Filmography
Edit
Empire of the Wolves (2005) as Police Officer/Chantal
Tenerife (2005) as Robina Van Lanschot
Air Emergency (2006) as Robina
Persepolis (2007) as Friend/Gossip/Teacher
Trois contes merveilleux (2007) as Princesse/Danseuse au bal
Les invincibles (2011) as Jenny
Carnage (2011) as Jogger
Jo (2013) as Lise Foucher/Lisa
Welcome to New York (2014) as Journaliste
Expats: Paris (2014) as Becky Banks
The Connection (2014) as Voix americaines
Powerless (2015) as Journalist women
Ad blocker interference detected!
Wikia is a free-to-use site that makes money from advertising. We have a modified experience for viewers using ad blockers

Wikia is not accessible if you've made further modifications. Remove the custom ad blocker rule(s) and the page will load as expected.