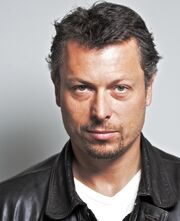 Olivier Schneider is an actor, stuntman, and producer who provides the motion capture for Miroslav Korda in Heavy Rain. He has also had roles in and performed and/or coordinated stunts in numerous movies, short films, TV series, and video games, including Fahrenheit, Beyond: Two Souls, and Star Wars Battlefront: Renegade Squadron. In addition, he is known for producing Fred Au Paradis (2010) and En attendant 6 heures (2011).
Filmography
Edit
Pourquoi partir? (1996) as Titou
Bingo! (1998) as Videur
Merci mon chien (1999) as Policier 1
Divine Intervention (2002) as Marksman 4
Samurai (2002) as Boxeur Thai
10 millions cash (2004) as Frank
Le petit lieutenant (2005) as Pavel Dimitrov
6 Hours (2005) as Gatekeeper
Sable noir (2006) as l'homme de la forêt
The Sixth Man (2006) as David
L'île aux trésors (2007) as Pirate #1
Greco (2007) as Second garde du corps
Rush Hour 3 (2007) as French Cop
Un monde à nous (2008) as Homme de main
La mort dans l'île (2008) as José Rocca
State Affairs (2009) as Raphaël Laurencin
Heartbreaker (2010) as le serveur grand restaurant
Illégal (2010) as Policier transfert Tania aéroport 2
Unknown (2011) as Smith
En attendant 6 heures (2011) as producer and Mathias atlan
The Prey (2011) as Novick
C.H.A.O.S. (2011) as un agent spécial
Ad blocker interference detected!
Wikia is a free-to-use site that makes money from advertising. We have a modified experience for viewers using ad blockers

Wikia is not accessible if you've made further modifications. Remove the custom ad blocker rule(s) and the page will load as expected.