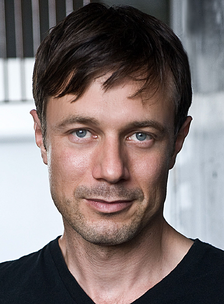 Pascal Langdale (born September 5, 1973) is an English actor known for providing the voice and motion capture for Ethan Mars in the critically acclaimed video game, Heavy Rain. Like the other actors/actresses that voice the playable characters he has been in films as a side character or an extra. Pascal is most known for The Phantom of the Opera (2004), Steel Trap (2007), Cards on the Table (2008) and voicing enemy soldiers in the game Splinter Cell: Blacklist (2013). He is also an actor for numerous counts of different TV shows.
Filmography
Edit
Phantom of the Opera (2004) as Flamenco Dancer
Steel Trap (2007) as Robert
Cards on the Table (2008) as David/Shirley
Ad blocker interference detected!
Wikia is a free-to-use site that makes money from advertising. We have a modified experience for viewers using ad blockers

Wikia is not accessible if you've made further modifications. Remove the custom ad blocker rule(s) and the page will load as expected.