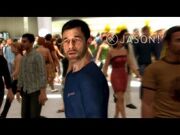 "Press X to Jason" is one of the most popular phrases from the game Heavy Rain. It means press X on the PlayStation 3 controller to call Jason Mars' name. It is used by Ethan Mars in the chapter "The Mall" a large number of times when Jason Mars goes missing, a few minutes before he dies. This phrase has been made fun of since the game's release in 2010. There are three recordings of the word "Jason" being yelled, which can sound unintentionally humorous when used repeatedly.
External Links
Edit
Ad blocker interference detected!
Wikia is a free-to-use site that makes money from advertising. We have a modified experience for viewers using ad blockers

Wikia is not accessible if you've made further modifications. Remove the custom ad blocker rule(s) and the page will load as expected.