For the unseen character, see Sam.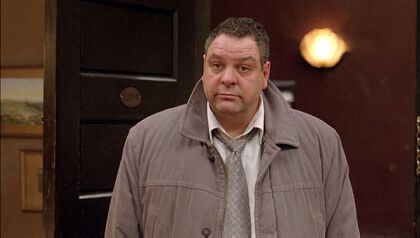 Sam Douglas (born June 17, 1957) is an American actor who voices and is the model for Scott Shelby in the critically acclaimed game Heavy Rain, and also voices Leland White in The Taxidermist. Apart from these important roles in video games, Douglas has played many extras and side characters in movies, most notably Batman (1989), The Fifth Element (1997), Snatch (2000), Derailed (2005), Perfume (2006) and Colombiana (2011). He is notably known for his portrayal of King Herod in The Bible (2013), a TV miniseries.
Filmography
Edit
Batman (1989) as a Lawyer
The Fifth Element (1997) as Chief NYPD officer
Snatch (2000) as Rosebud
Derailed (2005) as Homicide Detective
Perfume (2006) as Grimal
Colombiana (2011) as William Woogard
The Bible Mini Series (2013) as King Herod
Sam Douglas tends to die often in movies, such as in Snatch (2000) by being stabbed by his own sword in a car accident, Perfume (2006) by being knocked over by a chariot falling on his head then falling in the water, and Colombiana (2011) by being shot in both kneecaps while standing over a shark tank and getting eaten by his own sharks when he falls in.
Ad blocker interference detected!
Wikia is a free-to-use site that makes money from advertising. We have a modified experience for viewers using ad blockers

Wikia is not accessible if you've made further modifications. Remove the custom ad blocker rule(s) and the page will load as expected.