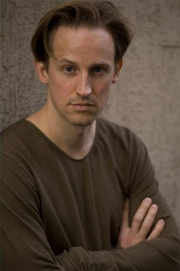 Tercelin Kirtley is an actor who provides the voice and motion capture for Nathaniel Williams and the voices for Andrew and Miroslav Korda in Heavy Rain. He has also had roles in several other shorts, TV series, and video games, including Dark Messiah of Might and Magic (2006) and Beyond: Two Souls (2013).
Filmography
Edit
Smoky Lies (2000) as Snake Von Chon
Dark Messiah of Might and Magic (2006) as Sareth
Grand Star (2007-2008) as Ahmel/Young Pointsman
Jeanne Devère (2011) as Capitaine Américain
The Woman in the Fifth (2011) as American Writer 2
Interpol (2012) as Scott Fletcher
Jo (2013) as Thierry Cruvallier
Platane (2013) as Technicien américain
Beyond: Two Souls (2013) as Jimmy/Frank/Cory/Willie
Ad blocker interference detected!
Wikia is a free-to-use site that makes money from advertising. We have a modified experience for viewers using ad blockers

Wikia is not accessible if you've made further modifications. Remove the custom ad blocker rule(s) and the page will load as expected.